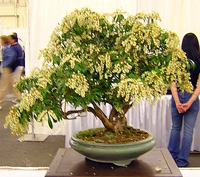 Japanese Andromeda Bonsai Tree, scientific name Pieris japonica, is an evergreen shrub with upright spreading branching.
It is known for its beautiful fragrant white flowers that hang in pendulous, long clusters.
It is a hardy plant that needs to be grown outdoors with winter protection from temperatures below 15F.
Buy Japanese Andromeda Bonsai (9 years old) – Only $59.95!
Additional Information
Family: Ericaceae
Scientific name: Pieris japonica
Common Names: Japanese Andromeda, Lily of the Valley Shrub, Japanese pieris, Andromeda, Pearl Bush.