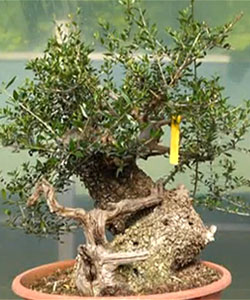 In this post, you will learn how to clean up the trunk, hollow out a stump, and trim and wire the branches of the Olive Tree, scientific name Olea europaea. This tree has been growing in the same pot for over 4 years.
Last summer, it was cut back very hard and as a result, it developed a fine dense branch structure that can be used to create a beautiful bonsai.
This is a great material for bonsai, because it has a character: beautiful bark, natural deadwood and nice twist in the trunk.
When you begin working on the material like this, it is not really important to know what exactly you want to make out of it. You just need to find parts of the tree that you want highlight.
In this tutorial we will be removing a few branches and opening up the structure, so you can see this beautiful trunk. Next, we'll be rearranging branches that we have left and doing some carving. The whole process will take about 2-3 hours.