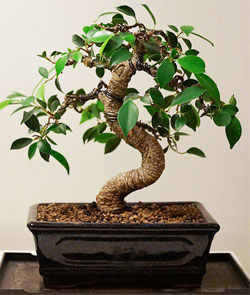 A wiring technique in bonsai is used to better control and manipulation the structure of the tree. We use wiring to fill in bare spots of the tree, create a movement or simply to change the direction of the branch.
It would be very hard, and sometimes even impossible, to create a bonsai that we want without using a wire.
Correct wiring is almost an art form in itself and takes a lot of practice to get it right. If the tree is wired nicely, you can display it without wire being an issue.
Wire Types
There are two main types of wire used for bonsai: aluminum and copper. Aluminum wire is not as strong as copper, but easier to apply and easier to remove. It is better for beginners because it is much more forgiving than copper.