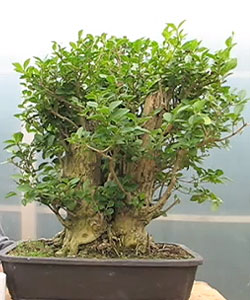 In this tutorial you will see how to transform an ugly hedging material to a beautiful bonsai by using a deadwood carving techniques and some branch wiring.
We'll be using Privet Tree, scientific name Ligustrum ovalfolium which is a  plant that is widely used for hedging. It has been in this pot for about 4 years.
During that time, it has been pruned very frequently resulting in a dense branch structure. Natural habit of this tree is very long and straight branches. In order to create a bonsai from it, we'll need to do some wiring.
Despite looking like a promising material, this tree is not as great as it looks. There are several long unattractive trunks that are all coming from one base. If you rotate this tree, it looks flat from any direction. There is no depth since all of these trunks are coming at you.