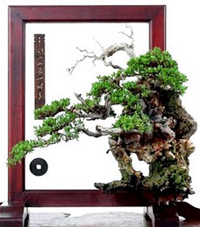 Chinese Bonsai, also called Penjing, is about creating a miniature tree or a landscape in the container. Chinese artists believed that by better understanding nature they will improve their spiritual development.
This beautiful art form was originated in China thousand years ago. Bonsai was created by highly educated aristocrats of China, inspired by nature, poetry and landscape paintings. These different art forms were linked closely together.
Each area of China had its own bonsai style, specializing in a certain species of tree, certain training techniques and certain type of design. There is a deep Chinese philosophy behind each bonsai tree and landscape scene. It is more about revealing an untold story and discovering mysteries of nature.