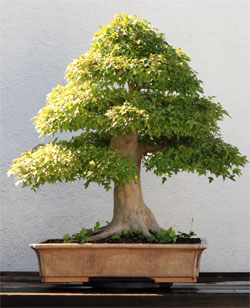 Bonsai trees like regular trees need water to survive. Most of the beginners run into a problem of overwatering or underwatering the tree. Don't feel bad. We all have done it. We all killed a few trees before getting it right. Watering bonsai the RIGHT way takes time and practice.
Regular trees in the natural environment can adjust and regulate their water intake by growing more or less roots. If there is not enough water, trees will extend their roots far into the ground searching for moisture. As a result, trees that grow in drier climates have larger root system.
If the tree grows in a wet climate where there is a lot of moister available, it doesn't need long roots to get enough water. Those trees usually have a shallow root system. Bonsai plants need considerably less water proportional to its size.
Since bonsai grows in a small shallow pot with a little compost, it doesn't have the ability to adjust or regulate water intake. Also, because there is not much soil in the pot, it dries out quicker and is greatly affected by the surroundings, like humidity levels, temperatures, season, location (outdoors/indoors) and so on.