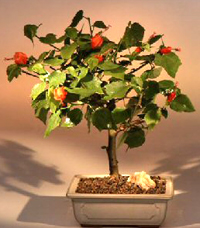 Turk's Cap Bonsai Tree, scientific name Malvaviscus arboreus, produces very beautiful red flowers that attract a lot of bees, butterflies and hummingbirds.
The flowers are similar to Hibiscus however they never fully open. Great for indoors.
Buy Turk's Cap Bonsai Tree – $49.95
Additional Information
Family: Malvaceae
Scientific name: Malvaviscus arboreus var. mexicanus var. drummondii
Common Names: Turk's Cap, Dwarf Hibiscus, Turk's Turban, Wax Mallow, Ladies Teardrop, Scotchman's Purse.
Origin: Native to tropical regions of Mexico and Cuba and also to the Gulf States of the U.S.
Appearance: It is a small evergreen shrub with oval, green, simple, alternate leaves.
Flowering: In the late spring and early summer, it bears red flowers. Flowers are similar to those of Hibiscus however the petals only partially unfold giving the flower a tubular shape like a Turk's turban or cap, hence the common name Turk's Cap. Since the flowers never open completely, the plant has been called Scotsman's purse. It has a long flowering period with heaviest bloom coming in late summer and fall.
Outdoor/Indoor Use: Both.
Light Requirements: Full sun to partial shade. Full sun is need for the maximum flower development.
Water Requirements: Needs regular watering. Use fast draining soil to avoid waterlogg. It can also tolerate drought for a short period of time.
Hardiness: Grows best in the USDA Zones 8b -11. This hardy plant can tolerate cold temperatures down to 15F.
Insects and Diseases: White flies, spider mites, mealybugs and powdery mildew are the most common.
Propagation: By cuttings, division, seed.