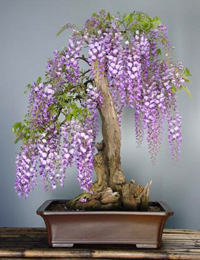 Japanese Wisteria Bonsai Tree, scientific name Wisteria floribunda, is a deciduous shrub with dark green leaves and gray-brown trunk.
It produces the most pectacular flowers out of Wisteria family. Very showy, purple or white, pea-like, fragrant flowers grow in long hanging clusters. It is a hardy tree, therefore needs to be grown outdoors.
Additional Information
Family: Fabaceae
Scientific name: Wisteria floribunda
Common Names: Japanese Wisteria.