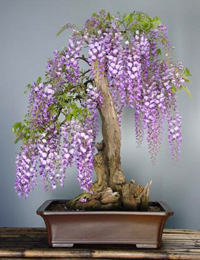 Japanese Wisteria Bonsai Tree, scientific name Wisteria floribunda, is a deciduous shrub with dark green leaves and gray-brown trunk.
It produces the most pectacular flowers out of Wisteria family. Very showy, purple or white, pea-like, fragrant flowers grow in long hanging clusters. It is a hardy tree, therefore needs to be grown outdoors.
Additional Information
Family: Fabaceae
Scientific name: Wisteria floribunda
Common Names: Japanese Wisteria.
Origin: Native to Japan but is grown in United States since 1860.
Appearance: It is a deciduous tree, meaning it will be leafless during winter, with smooth, gray-brown trunk and alternate, pinnately compound leaves. Leaves are dark green with 13-19 leaflets.
Flowering: In spring, it produces fragrant, pea-like, purple, blue-purple, or lilac-blue flowers that grow in long cascading clusters. They are followed by fruits which are flattened pods full with bean-like seeds. Be careful, the seeds and seed pods of wisteria are poisonous.
Outdoor/Indoor Use: Outdoors.
Light Requirements: Full sun to partial shade.
Water Requirements: Needs a lot of water during growing season and less water in the winter. Grows best in moist but well drained soil. It can tolerate a variety of soil.
Hardiness: Grows best in the USDA Zones 5 – 9.
Insects and Diseases: Generally very healthy.
Propagation: By cuttings and layering.
Buy Japanese Wisteria Bonsai:
Buy Japanese Wisteria Bonsai – $59.95