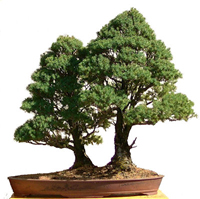 Dwarf Alberta Spruce Bonsai Tree, scientific name Picea glauca 'conica', originated in cool forested regions of the Northern Hemisphere. It is an evergreen shrub with a deep green foliage that consist of needle-like leaves. Dense crown is supported by brown trunk that gets ridged with age.
This conifer makes an excellent bonsai tree. It produces small flowers that are followed by small cones. This evergreen is a hardy tree that needs to be grown outside.
Buy Dwarf Alberta Spruce Bonsai – Only $49.95!