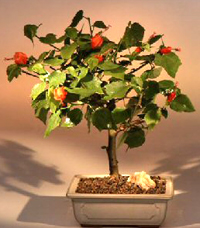 Turk's Cap Bonsai Tree, scientific name Malvaviscus arboreus, produces very beautiful red flowers that attract a lot of bees, butterflies and hummingbirds.
The flowers are similar to Hibiscus however they never fully open. Great for indoors.
Buy Turk's Cap Bonsai Tree – $49.95
Additional Information
Family: Malvaceae
Scientific name: Malvaviscus arboreus var. mexicanus var. drummondii
Common Names: Turk's Cap, Dwarf Hibiscus, Turk's Turban, Wax Mallow, Ladies Teardrop, Scotchman's Purse.