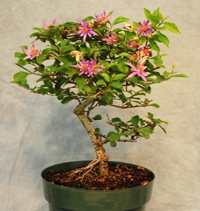 Lavender Star Flower Bonsai Tree, scientific name Grewia occidentalis, is an evergreen shrub that is native to Africa and Australia.
At the end of the spring it produces beautiful star-shaped purple flowers, hence one of its common names  Lavender Star Flower. This plant is drought and salt tolerant. Great for indoors.
Buy Lavender Star Flower Bonsai (Medium) – Only $45.95!
Buy Lavender Star Flower Bonsai (Large) – Only $69.95!
Additional Information
Family: Malvaceae
Scientific name: Grewia occidentalis
Common Names: African Starbush, Lavender Starflower, Crossberry, Four-corner, Buttonwood.