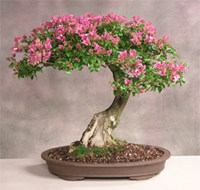 Crape Myrtle Bonsai Tree, scientific name Lagerstroemia indica, is native to China and Korea. It was first introduced to southern half of the United States and England in the eighteenth century.
Crape Myrtle is an outstanding ornamental tree that became so popular because of its long blooming season of beautiful red, white, pink or purple flowers, shiny dark green leaves that turn red, orange or yellow in fall and distinctive exfoliating bark.
This is a hardy tree that is usually grown outdoors but can also be adapted for indoors.