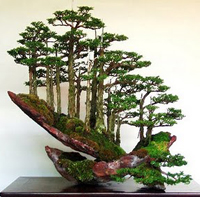 Chinese Bonsai, known as Penjing, was created in China thousand years ago and got to Japan during period of Zen Buddhism around 1195.
Once it was introduced into Japan, bonsai art began to develop in its own way.
At first, only aristocrats of Japan had access to this kind of art. It was a symbol of prestige and honor. But as time went by Chinese bonsai got very popular and was introduced to the public.
Simple bonsai art was refined by Japanese artist, who created a set of rules and shapes. Because Japanese bonsai art was born from Chinese bonsai they both have a lot of similarity that makes it sometimes quite difficult to distinguish.