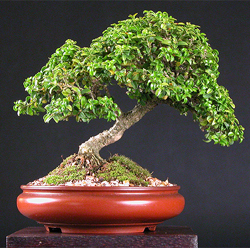 Japanese Kingsville Boxwood Bonsai Tree, botanical name Buxus microphylla, is native to Japan and Taiwan.
Other species of the Buxus family are native to western and southern Europe, southwest, southern and eastern Asia, Africa, Madagascar, northernmost South America, Central America, Mexico and the Caribbean.
With over 70 species in the Buxus family, there is a tree to suit everyone. Buxus microphylla is a branched evergreen shrub that can grow in shade or full sun. It has naturally small leaves that are great for making a bonsai.