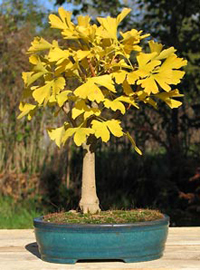 Ginkgo Bonsai Tree, scientific name Ginkgo biloba, was originally native to North America but disappeared until it was rediscovered in the 18th century in China.
I has light green leaves that turn beautiful yellow color in the fall. This tree is hardy and should be grown outdoors. Needs to be protected from frost because of the fragile roots.
Pruning should be done carefully since scars don't heal well.
Buy Ginkgo Bonsai Tree – $89.95