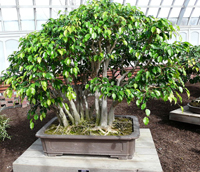 Mistletoe Fig Bonsai Tree, scientific name Ficus deltoidea, is a slow growing shrub native to the tropical climates of India, Asia and Africa.
It produces small orange and red fruits that look just like mistletoe, hence one of the common names Mistletoe Fig. This tropical bonsai is great for indoors.
Buy Mistletoe Fig Bonsai – Only $44.95!
Additional Information
Family: Moraceae