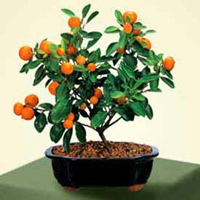 Calamondin Orange Bonsai Tree, scientific name Citrus mitis, is native to southern China is one of the most popular fruited bonsai trees.
It produces brilliantly fragrant white flowers that are followed by miniature, flavorful oranges over the course of a year. Oranges don't get bigger than a golf ball but are still eatable.
The little oranges are often collected and used for marmalade or other baking.
This bonsai makes a great holiday or special occasion gift. My friends absolutely loved it when I gave it to them at their housewarming party.