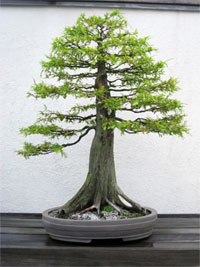 Bald Cypress Bonsai Tree, botanical name Taxodium Distichum, is a great bonsai for beginner who is just getting started in the hobby. It is inexpensive and very easy to grow.
Bald Cypress can be found in many swampy areas of Florida and Louisiana. It grows up to 100 – 150 ft tall and can live well over 1,000 years.
Despite the fact that most of the species from this family don not loose their leaves in winter bald cypress does, hence the name "Bald Cypress".