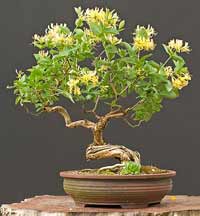 Japanese Honeysuckle Bonsai Tree, scientific name Lonicera japonica, is native to eastern Asia including China, Japan, and Korea.
One interesting characteristic of this tree is that it is deciduous when grown in cold climates and evergreen in warm areas. It is a very cold hardy plant, and if grown in a colder climate, can tolerate temperatures down to -20F.
This plant is used in traditional Chinese medicine. It bears fragrant flowers that produce honey-flavored nectar that attracts bees and birds, hence the common name Japanese Honeysuckle.
Additional Information
Family: Caprifoliaceae
Scientific name: Lonicera japonica or Lonicera chinensis
Common Names: Japanese Honeysuckle, Hall's Japanese Honeysuckle, Gold-And-Silver Flower, Madreselva.
Origin: Native eastern Asia including China, Japan, and Korea.
Appearance: This ornamental plant has slender stems and opposite simple leaves.
Flowers: In the spring and summer, it produces creamy to yellow fragrant flowers.
Outdoor/Indoor Use: Both. The growth rate is much faster in the warm climate.
Light Requirements: Full sun to partial shade.
Water Requirements: Needs regular watering but can tolerate soggy soil and drought for a short period of time. Do not allow the soil to dry out completely.
Hardiness: Grows best in the USDA Zones 4 – 9. Can tolerate cold down to -20F if grown in colder climates.
Insects and Diseases: Is susceptible to aphids, leaf blight, and powdery mildew.
Propagation: By seed and layering.
Buy Japanese Honeysuckle Bonsai – $44.95