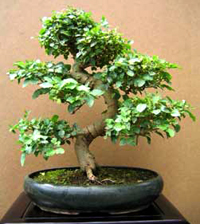 The Glossy Privet Bonsai Tree, scientific name Ligustrum lucidum, is native to native to China, Korea, and Japan.
Additional Information
Family: Oleaceae (olive Family)
Scientific name : Ligustrum lucidum
Common Names: Glossy Privet, Wax-Leaf Privet, Wax-Leaf Ligustrum, Tree Privet.
Origin: It is native to China, Korea, and Japan.
Outdoor/Indoor Use: Both.
Light Requirements: Full sun to partial shade.
Water Requirements: It can tolerate drought but for maximum growth needs regular watering. Don't let it sit in the water. Use fast-draining soil. Don't allow for the soil to dry out completely.
Hardiness: Grows best in the USDA Zones 8 – 10. Needs to be protected from cold temperatures below 40F.
Propagation: By seeds and softwood cuttings.
Buy Glossy Privet Bonsai:
Buy Glossy Privet Bonsai (Medium) – $79.95
Buy Glossy Privet Bonsai (Large) – $135.95