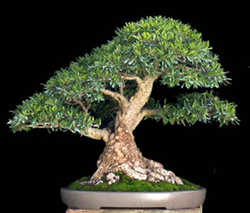 Willow Leaf Ficus Bonsai Tree, botanical name Ficus nerifolia or Ficus salicifolia, is one of the most popular indoor bonsai tees.
Willow Leaf Ficus Bonsai Tree has a brown-gray trunk topped with green, narrow, pointed leaves.
It is possible to reduce leaf size through total defoliation of the tree during spring month. This will promote smaller leaves and denser growth. It requires moderate amount of water.
Additional Information
Family: Moraceae
Botanical name: Ficus nerifolia/Ficus salicifolia
Common Names: Willow Leaf Ficus Bonsai Tree, Ficus Bonsai Tree , Willow Leaf Bonsai, Mexicana Ficus, Willow Leaf Fig
Origin: Willow Leaf Ficus Bonsai Tree is native to southern Asia and India but can be grown in any tropical environment. Although the ficus grow all over the tropics, they are most associated with Taiwan.
Outdoor/Indoor Use: Both. You can grow Willow Leaf Ficus Bonsai Tree outside if you live in a warm climate. Since it is not hardy tree, protect it from cold.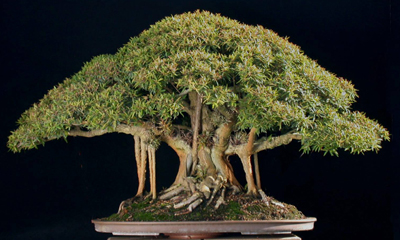 Light Requirements: Likes full sun but be grown in the shade.
Hardiness: Does best in the USDA Zones 10-11. Like most tropical plants, Willow Leaf Ficus Bonsai Tree likes warm and humid climate. It needs to be protected from freezing temperatures.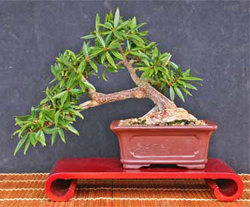 Water Requirements: Leave time for the soil to get dry between watering. Check the soil on the regular basis with your fingers. If the soil is on the dry side, provide with some water. Never let the soil to dry out completely. Make sure it has a good drainage.
Bonsai Style: Great for all styles in bonsai.
Propagation: Cuttings, air-layers, seeds and collecting.
Insects and Diseases: Aphids, scale, thrips and fungus.
Buy Willow Leaf Ficus Bonsai Tree:

Buy Willow Leaf Ficus Bonsai Medium – $49.95
Buy Willow Leaf Ficus Bonsai (Coiled Trunk) – $49.95
Buy Willow Leaf Ficus Bonsai Large – $150.00