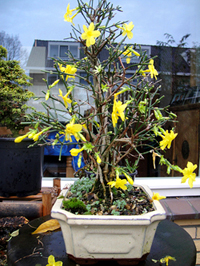 Winter Jasmine Bonsai Tree, scientific name Jasminum nudiflorum, is native to western China. It is a cascading shrub with woody brown square branches. The stems are thin and bright green color when young but thicken quite heavily as it gets older.
The unique characteristic of this plant is its gorgeous yellow flowers that bloom from fall until late winter or even early spring. It provides a nice splash of color during cold winter months.
One of the reasons why it's such a popular bonsai is its durability. You can easily use wires and it can spend the winter outside without any protection.
Buy Winter Jasmine Bonsai – Only $39.95!