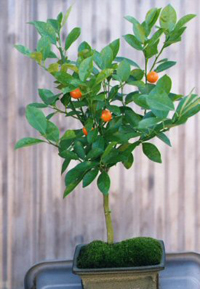 Tangerine Bonsai Tree, scientific name Citrus reticulata 'Kishu', is known for its sweet, juicy, seedless, orange fruits "tangerines".
It also produces fragrant white flowers during spring months. This tree is very easy to grow and maintain. It is great for indoors.
Buy Tangerine Bonsai Tree – $89.95
Additional Information
Family: Rutaceae
Scientific name: Citrus reticulata 'Kishu'
Common Names: Citrus Tree, Mandarin, Satsuma, Tangerine, Dwarf Seedless Kishu Mandarin, Dwarf Kishu Tangerine.