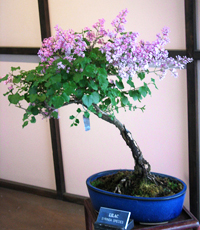 Korean Lilac Bonsai Tree, scientific name Syringa meyeri or Syringa palibiniana, is a decideous tree very urban tolerant, especially to heat and drought.
In late spring, it produces showy fragrant violet-purple flowers that attract bees, butterflies and birds. Generally, this tree is disease and pests free and is completely resistance to powdery mildew.
It is very adaptable bonsai tree that can tolerate a wide range of conditions. Korean Lilac is a very hardy tree, therefore needs to be grown outdoors.