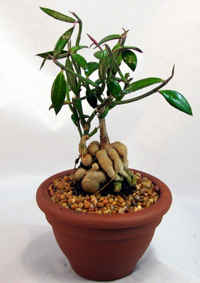 Red Monadenium Bonsai Tree, scientific name Monadenium rubellum, is a succulent tree with interesting multiple flesh bulbous trunks and drooping thin stems with green and red stripes.
It produces attractive red-pink flowers during spring and summer. It can tolerate drought and can be grown indoors.
Buy Red Monadenium Bonsai – $29.95
Additional Information
Family: Euphorbiaceae
Scientific name: Euphorbia neomontana, Euphorbia rubellum, Monadenium montanum, Monadenium rubellum.
Common Names: Red Monadenium.
Origin: Native to Africa, western Asia, Europe, and North and South America.