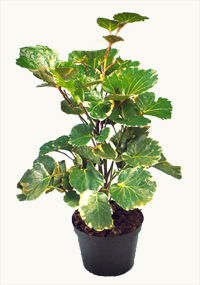 Balfour Aralia Bonsai Tree, scientific name Polyscias balfouriana, is a sun loving tropical plant with showy large round leaves.
It prefers warm and humid climate and, if provided enough light, can be grown indoors. Native to New Zealand, tropical Asia and the Pacific Islands, it belongs to Araliaceae family.
Additional Information
Family: Araliaceae
Scientific name: Polyscias balfouriana syn. Aralia balfouriana, Polyscias scutellaria 'Balfouriana'.
Common Names: Balfour Aralia, Chicken Gizzard, Black Aralia, Dinner Plate Aralia.