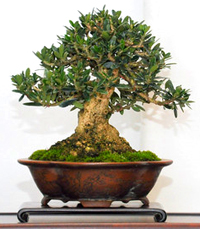 Olive Bonsai Tree, scientific name Olea europaea, is native to Europe and Middle East. Some of the Olive trees can live for well over a thousand years.
Olive belogs to Oleaceae family which contains about 20 different species but only Olea europaea produced editable fruits.
Fruit "olive" is of major agricultural importance in the Mediterranean region used to produce live oil which is used all over the world.
Olive tree is grown for its scented creamy blooms, edible fruits, old-looking cracked bark and dark green leathery leaves.
Very durable tree that can tolerate drought, wind and salt. This bonsai can be grown outdoors or indoors. Enjoys hot summer sun.
Buy Olive Bonsai Tree – Only $49.95!