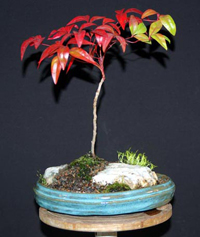 Heavenly Bamboo Bonsai Tree, scientific name Nandina domestica, is grown for its beautiful pink foliage that turns green.
It also produces large star-shaped white flowers that are followed by clusters for red berries. This drought tolerant evergreen is very easy to grow and maintain. Great for indoors.
Buy Heavenly Bamboo Bonsai – Only $49.95!
Additional Information
Family: Berberidaceae
Scientific name: Nandina domestica
Common Names: Nandina, Heavenly Bamboo, Sacred Bamboo, Wood's Dwarf Nandina.
Origin: Native to eastern Asia from the Himalaya east to Japan.