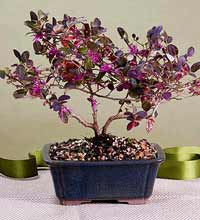 Chinese Fringe Flower Bonsai Tree, scientific name Loropetalum chinensis, is native to Japan and southeastern Asia including southern China.
It produces beautiful showy bright pink flowers. Easy to grow, cold hardy tree that can be grown indoors or outdoors.
Additional Information
Family: Hamamelidaceae
Scientific name: Loropetalum chinensis
Common Names: Chinese Fringe Flower, Loropetalum, Chinese Witch Hazel.