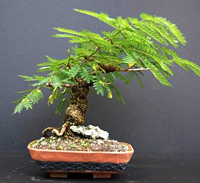 Mimosa Bonsai Tree, scientific name Leucaena leucocephala, is a deciduous plant that can tolerate drought and is easy to grow.
It produces beautiful creamy flowers that look like powder puff or pom poms. It is native to southern Mexico and northern Central America where it is widely planted for fodder and firewood. Great for indoors.
Additional Information
Family: Mimosaceae
Scientific name: Leucaena leucocephala., Acacia glauca Willd., Leucaena glabrata Rose, Leucaena glauca auct., Mimosa leucocephala Lam.