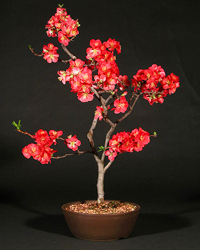 Flowering Quince Bonsai Tree, scientific name Chaenomeles speciosa, is native to eastern Asia in Japan, China and Korea. This is one of my favorite trees for bonsai.
This deciduous shrub produces gorgeous pink, red, or white flowers and fragrant yellowish fruits.
Fruit is editable but but tart, can be used for jelly making. Flowering Quince can be made into a beautiful bonsai tree.
Additional Information
Family: Rosaceae