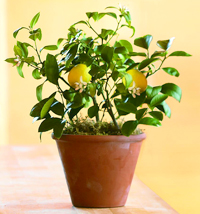 Meyer Lemon Bonsai Tree, scientific name Citrus meyeri, is native to China. It is a great indoor plant that produces lovely white fragrant flowers and tasty fruits "lemons" all year round.
Buy Meyer Lemon Bonsai – Only $99.95!
Additional Information
Family: Rutaceae
Scientific name: Citrus meyeri
Common Names: Meyers lemon, Improved Meyer Lemon, Chinese Dwarf Lemon, Chinese Dwarf Lemon, Dwarf Lemon.