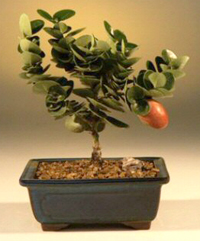 Natal Plum Bonsai Tree, scientific name Carissa macrocarpa, is very popular bonsai tree because of its beautiful fragrant white flowers and tasty red fruits.
Additional Information
Family: Apocynaceae
Scientific name: Carissa macrocarpa Syn. Carissa grandiflora. Some of the popular ornamental cultivars include: 'Dainty Princess', 'Low Boy', 'Grandiflora', 'Green Carpet', 'Prostrata', 'Horizontalis', 'Linkii', 'Minima', 'Nana', 'Boxwood Beauty', 'Nana Compacta', and 'Tuttlei'.