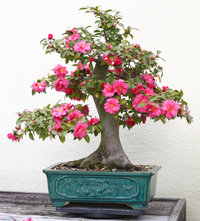 Camellia Bonsai Tree, scientific name Camellia sasanqua, is native to southern Japan and China. Bonsai growers loves this tree for its beautiful pink cup-shaped flowers. Can be grown indoors.
Buy Camellia Bonsai Tree – Only $49.95!
Additional Information
Family: Theaceae
Scientific name: Camellia sasanqua
Common Names: Camellia
Origin: Native to China and Japan.
Appearance: This is an evergreen shrub with simple, glossy, leathery foliage that ranges from medium to dark green.