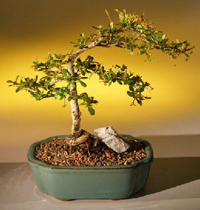 Dwarf Black Olive Bonsai Tree, scientific name Bucida spinosa, is a tropical evergreen that is native to to Cuba, Caribbean and some parts of Florida.
Buy Dwarf Black Olive Bonsai – Only $175.00!
Additional Information
Scientific name: Bucida spinosa
Family: Combretaceae
Common Names: Dwarf Black Olive, Spiny Black Olive.
Origin: Native to Cuba, Caribbean and parts of Florida.