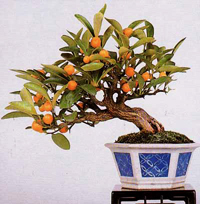 Marumi Kumquat Bonsai Tree, scientific name Fortunella japonica, is an evergreen with small, glossy, deep-green leaves that is great for indoors.
It is loved by bonsai growers for its beautiful fragrant white flowers and attractive round golden fruits that are both edible and ornamental. It belongs to Citrus family.
Buy Marumi Kumquat Bonsai – $89.95
Additional Information
Family: Rutaceae
Scientific name: Fortunella japonica
Common Names: Marumi Kumquat, Kumquat, Round Kumquat, Morgani Kumquat, Nagami Kumquat.
Origin: Native to Eastern Asia, China, Japan.
Appearance: It is an evergreen with small, glossy, deep-green leaves and gray-brown bark.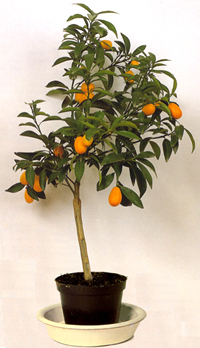 Flowering: It produces simple white fragrant flowers from the end of spring till the end of summer. Flowers are followed by edible globose golden-orange fruit called kumquat. This fruits can be eaten raw.
Outdoor/Indoor Use: Both.
Light Requirements: Full sun to partial shade.
Water Requirements: It needs regular watering. Allow the soil to dry a little between waterings. It likes well drained soil. Never allow the soil to dry out completely.
Hardiness: Grows best in the USDA Zones 9-11. This is one of the most cold hardy plants in the Citrus family. Should be protected from freezing temperatures.
Insects and Diseases: Mealy bugs, spider mites and scale.
Propagation: By seeds and cuttings.