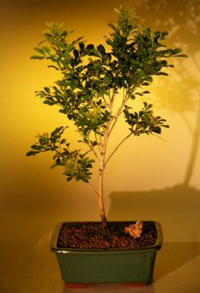 Chinese Perfume Bonsai Tree, scientific name Aglaia odorata, is native to China where it is classified as near threatened. This is a beautiful bushy tree that has similar characteristics to Orange Jasmine Tree.
It produces yellow fragrant flowers that don't open. They are shaped as grain of rise, hence one of the common names Chinese Rice Flower.
The flowers bloom few times a year producing very sweet lemony scent, hence the other common name Mock Lemon.
Chinese Perfume Bonsai Tree has also a medical use: orodine and ororinol obtained from this plant has cancer chemo preventative activity. It is an outstanding indoor bonsai that is very easy to grow.
Additional Information
Family: Meliaceae
Botanical name: Aglaia odorata
Common Name: Chinese Perfume, Chinese Rice Flower, Mock Lemon
Origin: China
Hardiness: I does best in the USDA Zone 10-11. Needs to be protected from freezing temperatures.
Light Requirements: It can grow in a full sun or partial shade.
Water Requirements: It likes moist well drained soil. Never allow the soil to dry out completely.
Propagation: Seeds, cuttings
Buy Chinese Perfume Bonsai Tree:
This bonsai tree is very rare. It grows relatively slow and compact. A must have for any bonsai collection.
Buy Chinese Perfume Bonsai – Only $44.95!