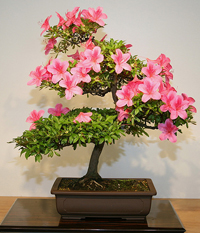 Satsuki Azalea Bonsai Tree, scientific name Rhododendron indicum, is a very popular evergreen shrub with small narrow dark green leaves and beautiful multiple color flowers that grow on the same plant.
This tree is hardy down to 5F and needs to be grown outdoors.
Buy Chojuho Azalea Bonsai Tree – $49.95
Additional Information
Family: Ericaceae.
Scientific name: Rhododendron indicum syn. Azalea indica, Azalea macrantha, Rhododendron hangnoense, Rhododendron lateritium, Rhododendron decumbens.
Common Names: Azalea, Satsuki Azalea, Southern Indica Hybrid Azalea, Macrantha Pink Indica Azalea.